Our chocolate bonbons are created with fresh, real ingredients, combined with fine chocolate, in a delicate and decadent bite.
Explore our many flavours. We usually carry over 30 flavours of bonbons, at any time. We have flavours that feature dark, milk, white, and ruby chocolate. There is something for every chocoholic!

Individual bonbon flavours that contain Nuts, Gluten, or Alcohol are marked. 
Have you viewed our flavours, and are ready to order?

Maeva, welcome to this tropical paradise! A caramelized white chocolate ganache infused with fresh tropical fruits: pineapple, passionfruit, mango, lemon, and coconut.

A decadent milk chocolate ganache made from our signature milk chocolate, paired with pure cane sugar and brown butter.
A holiday classic, reimagined. Our signature milk chocolate is infused with spiced Speculaas.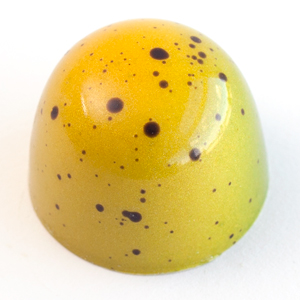 A tart lemon caramel is layered upon a creamy lemon-rosemary white chocolate ganache.

A beautiful Earl Grey is combined with English Lavender and Vanilla, in this jolly good white chocolate ganache.
Fragrant Chai spices are combined with our special House Blend milk chocolate, in a rich and warming ganache.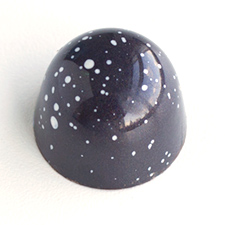 No cap, this is the real deal! Made with the caviar from Mexican Vanilla beans, this dual layer bonbon features white and dark chocolate ganaches, infused with Vanilla.

A creamy white chocolate ganache, paired with lemongrass, coconut cream, lime, ginger, and Thai chiles.

Our signature dark chocolate ganache paired with a 16yr single malt, with a layer of pop rocks for a scintillating finish.

House made Eggnog white chocolate ganache, with fresh nutmeg, and a Rum and Cognac blend, for the ultimate experience.

Origin Vietnam 51% dark milk chocolate ganache, produced in the Lab, from the bean.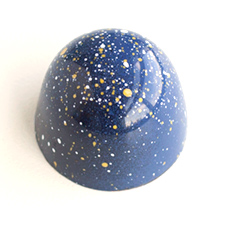 Origin Nicaragua dark chocolate ganache, layered upon a caramelized chocolate ganache, with a sprinkle of sea salt.

Our house specialty dark chocolate ganache.

Origin Venezuela dark chocolate ganache, produced in the Lab from the bean, paired with local honey, layered upon a caramelized chocolate ganache.

Cherry blossom infused white chocolate ganache, layered upon a white chocolate and grand cru Matcha ganache, with a hint of Tahitian vanilla.

Origin Nicaragua dark chocolate ganache, produced in the Lab, from the bean.
A white chocolate ganache paired with apricot, layered upon a rum infused dark chocolate ganache, finished with a rum soaked raisin.

Our legendary Bourbon caramel rests upon a brown butter infused milk chocolate ganache, and is finished with a Pecan 'duja.

Origin Nicaragua dark milk chocolate ganache, paired with a classic American Rob Roy cocktail.

Origin Honduras dark chocolate ganache, paired with black currant and cassis.

A vanilla and peppermint infused white chocolate ganache, layered on a chocolate wafer crunch layer, combined with popping candy.

Creamy custard white chocolate ganache, paired with vanilla, coconut, and a custard liqueur.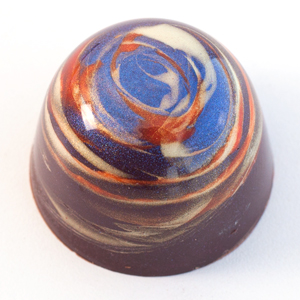 A malted milk chocolate ganache is layered on top of crushed malt balls combined with chocolate. A trip down nostalgia lane.

Origin Venezuela dark milk chocolate ganache, infused with cinnamon and layered upon a cinnamon toast cereal milk chocolate 'duja.

A rich dark chocolate ganache, made with a special blend of three Origins.
Made especially for caramel lovers. Three layers of caramel with milk chocolate, and a touch of salt, with caramel crunchy pearls.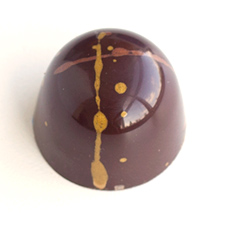 Creamy milk chocolate and hazelnuts combined with crème fraiche, and a layer of hazelnut infused crêpes dentelle crisps.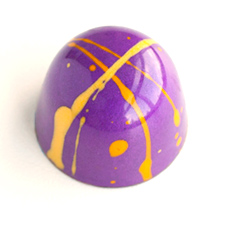 A vanilla caramel is layered on a buttered popcorn and white chocolate ganache, and finished with a salted pretzel and chocolate wafer.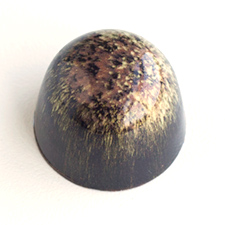 Dark chocolate is paired with locally roasted espresso, with a middle layer of caramelized white chocolate, and finished with a crunch layer of dark chocolate combined with crunchy cacao nibs.

Remember chasing the ice cream truck down the street for that creamy orangey goodness? This bonbon features a white chocolate ganache, infused with orange and cream.

Peanut butter and milk chocolate, layered with banana white chocolate. The King's breakfast, in a bonbon.
This piece features silky white chocolate paired with lemon and passionfruit in one layer, and fragrant yuzu in the other layer.
All bonbons contain fresh ingredients and no preservatives, and are best consumed within a month of purchase.
Ingredients:  cocoa mass, sugar, cocoa butter. May contain: milk, wheat, barley malt flour, soya lecithin, vanilla, fruit, alcohol, colour, cacao nibs, salt, nuts, honey, natural flavouring.  Created in a facility that works with peanuts, tree nuts and wheat products.  Organic, natural, direct trade, and fair trade ingredients are used where possible.
Ingrédients: pâté de cacao, sucre, beurre de cacao. Peut contenir:  lait, blé, farine de malt d'orge, lécithine de soja, arôme naturel de vanille, fruits, alcohol, colorant(s), grains de cacao, sel, noix, produits des noix.  Crée dans un établissement qui entrent en contact avec noix, arachides, and produits de blé.  Ingredients biologiques, naturel, commerce direct/equitable sont utilisé si possible.
Note: We are not a certified nut-free facility. Please consult our Allergens section for detailed information.
Real, whole ingredients.
Finest quality chocolate.
No compromise.
Our commitment to quality is unparalleled. Taste the difference.